The Austrian Pfeifer Holding GmbH has signed an agreement on acquiring the Finnish wood processing company Pölkky Oy. The transaction strengthens Pfeifer's position as one of the leading European timber industry companies and prepares the producer to face global competition. The Pölkky brand, management and operations will remain untouched.
Since its inception in 1968, Pölkky has been owned by the Virranniemi family. As the largest wood processing company in private ownership in Northern Finland, Pölkky employs 420 people and most recently recorded an annual turnover of 200 million Euros. After Pölkky integration into the Pfeifer Group, it intends to continue with its investment programme as planned during years 2022–2024.
Michael Pfeifer, CEO of Pfeifer Holding GmbH, said: "We are excited about the opportunities this acquisition brings. Pölkky is a well-managed family company with a competent management and staff, a unique location in the heavily forested area of Northern Finland and a valuable market position. This is why Pölkky fits perfectly into our strategy of synergistic growth. The Pfeifer Holding's three-man management team is comprised of CEO Michael Pfeifer, CTO Clemens Pfeifer and CFO Ewald Franzoi.
Thorough analysis resulted in Pölkky being the best option
In a well-founded analysis process, the Holding's Managing Directors thoroughly examined all acquisition options over the course of the last few years. In the end, Pölkky emerged as the best option. When signing the contracts, the leadership trio announced that they intend to continue Pölkky's ambitious investment projects and operations with full force and expand the Pfeifer Group's role as a strong partner in the global sawn timber market.
Petteri Virranniemi, CEO of Pölkky Oy, also emphasises the benefits of the deal: "For me and my family, this step strengthens our development potential, allowing Pölkky to continue to grow and make profits. I am confident that we will be able to create new synergies and additional market potential."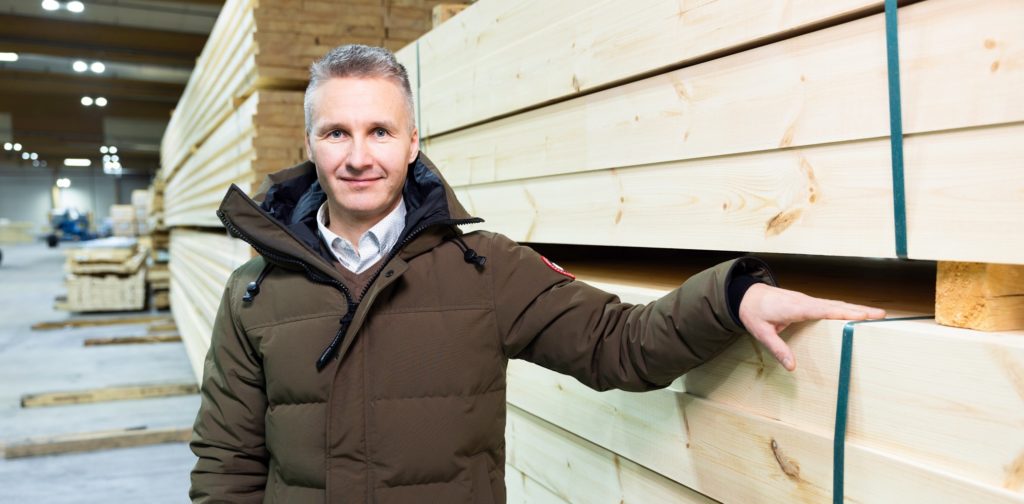 New perspectives for Pfeifer
Thanks to the acquisition, the Pfeifer Group's number of employees rises to some 2,600 in four countries. The forecast turnover will increase to 1.4 billion Euros in 2023.
For the company previously situated in Central Europe, the transaction means a strategically coherent development in the direction of Northern Europe. Apart from entering an attractive market, this also opens new procurement sources when it comes to high-quality wood from the far North. This will secure the supply and delivery capabilities of the Group in the long run.
Pölkky there to stay
The Pölkky brand will remain active after the firm's integration into the Pfeifer Group. Likewise, the management will continue to manage the company under CEO Petteri Virranniemi's leadership, while the supervisory board will be reorganised. The acquisition has no impact on Pölkky's staff levels, customers and cooperation agreements. The actual acquisition will take place after merger control approximately in January 2023.
About the Pfeifer Group
The Austrian Pfeifer Holding GmbH was founded in 1948 and is currently run by the Pfeifer family's third generation. Before the acquisition of Pölkky, the Pfeifer Group had around 2,200 employees at eight locations in Austria, Germany and the Czech Republic. The company headquarters are in Imst (Tyrol/Austria).
In the Group's fully integrated sawmills, around 4 million cubic meters of wood are cut annually and processed completely along the entire value chain. Pfeifer focuses on the clearly defined areas of timber construction (cross laminated timber, glulam, glued solid wood panels), formwork (concrete formwork panels, formwork beams), pallet blocks and packaging timber, as well as energy (pellets, briquettes, green electricity and heat).
Pfeifer exports its products to 90 countries, with around 90 % of sales generated in its core European markets. There, Pfeifer is the market leader in shuttering panels and pallet blocks and is one of the largest producers of sawn timber, pellets, formwork beams and glulam.
Learn more at https://www.pfeifergroup.com/en/ 
About Pölkky
Pölkky is Northern Finland's largest family-owned wood processing company. High production standards, reliable supply relationships, logistics know-how and responsible personnel characterise the company, whose slogan is "Roots for Quality Living". The sawmills and processing plants are located in Kuusamo (headquarters), Taivalkoski, Kajaani, Kitka and Oulu. Its annual production output is 700,000 m3 of sawn timber, and the product portfolio also includes planed timber, pressure-treated timber, glulam, chips and sawdust. With an export quota of over 70 percent and delivery destinations in 35 countries, Pölkky is a major player in the global sawmill market
To read other Pölkky related posts click here.
---